Mads Brønsbjerg
Position: Sales Employee | Brand: IGO | Location: Copenhagen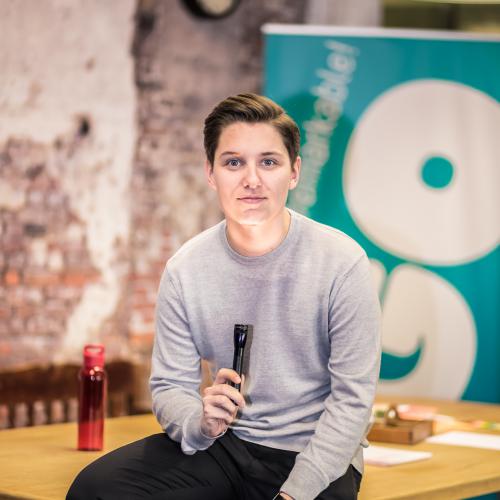 "I'm working in a team with many different personalities and nationalities, which brings me every day something different!"
Tell us: since when are you working for Plato Group?
Since january 2018.
How did you end up at Plato Group?
After almost 11 years working with sneakers in a retail shop, I thought it was time for me to move on and get a new challenge. What I looked for was a place, where I could see myself for years and also a place, where the mentality matched mine. That's where Plato Group came in! I applied for the job, and soon after that Sandra gave me a call (I was actually at my old work) and asked if I had time for a short conversation. I agreed, because I thought it was only to arrange an interview. Turned out to be a couple of questions – almost like a quiz and it took me by surprise! But it couldn't have been that bad. Look at where I'm now! :-) I had a couple of interviews for the job, where Sandra and Casper both participated and they completely sold the whole Plato Group!
What are your tasks and responsibilities?
I maintain the Danish market for IGO at the moment. A position filled with a lot of new stuff for someone like me, but it's a very good place to start. Some would say, that you get thrown into the deep end of the pool, and hopefully you can swim. I'd like to say, that I'm not that bad at swimming. But you should probably ask Sandra! The plan is, that when Compacon fully launches in the Nordics (Denmark) I'm supposed to have a foot in both camps. I will be in the "Greyzone" and determine if a customer belongs to IGO or Compacon.
How do you experience working for Plato Group?
After working almost 11 years in retail, the first mayor change for me was how much they actually do for you, and how much time and effort they put into my learning and growth within the job. A huge difference for me was how fast we went on fairs and trips to the HQ both for Plato Group and also Compacon. When a company does something like that for their employees, you feel like you want to give something back. That's what I'm working on right now! :-) I'm in a team with a lot of different personalities and nationalities. All of which is different in so many ways, and this adds to every day bringing something different! I have a team leader in Sandra who is one of the most committed and sales-driven persons I've ever met! Learning from her and being able to fly under her wings, is a big bonus for me! She understands what I need and gives me time and the opportunity to grow every single day.
Could you share with us fun and/or interesting facts, which people should know?
This! This is a fun side of the job, that people should know. I've only been here for around 3 months now, and I'm already the face of the company! Jokes aside it's definitely been a pleasure starting here and I look forward to spending the next long time here. The people here are so friendly and straightforward. From Joeri in DTP to Nicolle in Customer Care and Ron, the CCO! Everyone is so nice, and making my start at Plato Group as easy as possible :-).