Marc van der Westen
Position: Manager Printing | Brand: Plato Group | Location: The Netherlands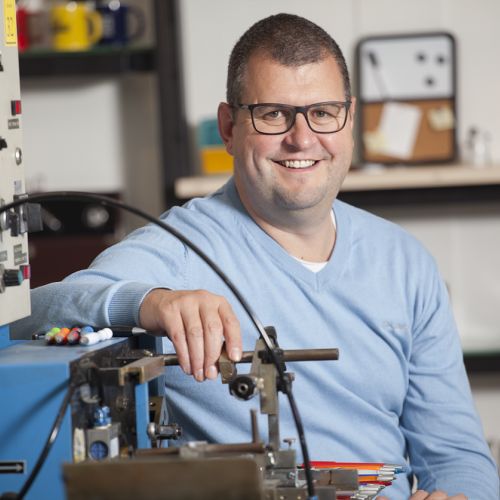 "Teamwork and enthusiasm is the key!"
Tell us: since when are you working for Plato Group?
I have been working at the Plato Group since the 1st of July 2000.
How did you end up at Plato Group?
In 2000 I worked at an Offset printer as Account Manager. Since the former IGO-POST was one of the customers and my predecessor left IGO-POST and was asked if he knew someone who could take his place, they came in contact with me. After a few conversations the feeling was good and I made the switch. I then started as Traffic Manager where everything around the catalogues was my responsibility.
What are your tasks and responsibilities?
In July 2017 I made the internal switch to the Printing department. As Manager Printing, I am responsible for the entire printing business within the Supply Chain. I direct daily over 90 employees together with my 3 team leaders. In terms of tasks it is very diverse but in general I try to get the maximum return from the human and machine with my team. With the aim to achieve streamlined workflows where we try to realise the demands of the markets as efficiently as possible. Teamwork and enthusiasm are therefore 'Key'. We try to get everyone involved as much as possible in the processes, so that there is support within the entire printing department.
How do you experience working for Plato Group?
Good of course, otherwise I would not have been working here for that many years :). Plato Group is a company that is constantly on the move and looks what's happening in the world around her. What do we see happening and how can we respond to that. This means that it never becomes monotonous, we stay in development and this is what makes it extra interesting.
Could you share with us fun and/or interesting facts, which people should know?
A historical statement from our founder Martien Jonkers has always stayed with me. He always said: 'What is more effective and beautiful than that for not more than € 0,20, you are in the 'chest pocket' of your customer or prospect for at least 3 months with your advertisement'. He was ofcourse referring to a printed ballpoint with your logo or message as the most effective advertising medium for your company. A wise statement and in my opinion absolutely the truth.